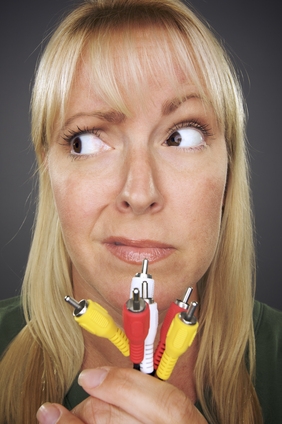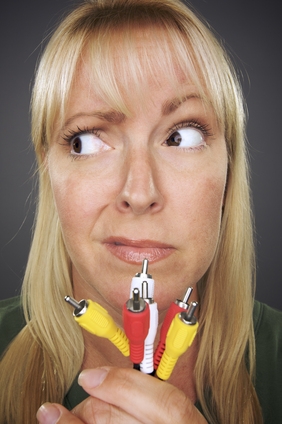 Every office needs to have their organized cables.  They are typically a tangled mess under the desk and on top of the desk.  Then there are all the wires and cables for charging your iPads, iPods, iPhones, cameras and so on.  In some households, there are multiple computers, 2 iPads, 5 cameras, 8 iPods and 3 or more cell phones.  That's a lot of wires to keep organized!
Before You Start Your Journey to Organized Cables
Before we actually begin the process getting organized cables, turn off your computer and start to untangle the wires.  Next, get out your label machine and label your wires and cables.  A good place to label your cables and wires is on the end you plug the cable into the electronic device.  For example, I have two printers and so I labeled the cables on the end that plugs into my laptop.  That way I can easily see which cable goes to which printer.  Sounds simple, but you'd be amazed at what I see in offices and what people put up because they don't take the time to organize their cables.
Also, make sure you label your camera cords and identify on the label which camera they belong to. Labeling your cords is easy with KableFlags(R) Cable Identification Tags.  I've used these on many projects and carry them in my organizing toolbox!  Mac cables are easy to identify and they typically don't need to be labeled.  Someone was thinking over there at Apple!
Once you have all your cables detangled and organized, use Velcro(R) One-Wrap(R) tie straps which are ideal to wrap around cables and tie them up or group together. These reusable Velcro ties are another handy organizing product that is in my toolbox when working with clients.
Start Working Towards Organized Cables
One of my favorite cable organizers for offices, TV's, media centers and kitchen desks is the Bluelounge Cable Box available at Room In Order in Vancouver.  It comes in two sizes and colors range from black, white, blue and green.  The Cable Box will de-clutter your cables and hide away extra cable lengths, power strips, surge protectors and more.  You can tuck all cords inside the cable box and close the lid.  It's that easy.   The small Cable Box neatly organized all our cables in our family room – floor lamp, two phones and stereo equipment.
If you have cords running across a room or along a baseboard that you want to hide, check out these cord covers.  Tired of cables dropping behind your desk or on the floor?  Use these small Cable Drops.  They come in cool colors and won't clutter up your desk!
And, there's one last thing that we need to organize and that is cell phone cords, mp3 and phone earbud cords.  I really love these cool Bobino Cord Wraps.  They come in three sizes to organize your mp3 and earbud cords, USB cables, and thicker laptop cords.  You can also use the small Bobino Cord Wrap to tidy up your cell phone cord when you have it plugged into the electrical outlet.  You'll love all the cool colors and no more tangle!
The beauty of having your organized cables is it makes your desk look more organized and you'll be able to vacuum up all those dust bunnies!
Another area I get asked to organize is the cellphone, iPod, camera charging area.  Make a list of what electronics you want to charge, measure the space you want to put your charging station and then go shopping.  Make sure the charging station you buy will work with all your electronic devices because sometimes you will need to purchase extra connectors for charging.
One issue I've had with charging stations is being able to charge the Blackberry.  What I've learned is you need to have the right connector for your Blackberry. Bluelounge the Sanctuary charging station comes in several sizes and colors and is another favorite organizing product I use for cable management.
For the true geek who has every portable device on the planet, check out this funky gadget charger – the Grass Charging Station.  A compartment underneath the grass hides all of the power adapters and cables.  And who said organizing can't be fun!
Give these a try and let me know how it worked for you to achieve organized cables.