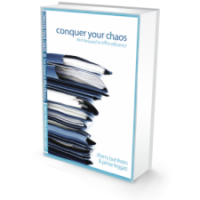 Do you have piles of paper in your office or home? Do you hate filing?  Are you overwhelmed with project files and wish that you had an automated system that gave you reminders and set your priorities each day?
If you answered yes to any of these questions, you will love Conquer Your Office Chaos!
This e-Book will walk you through step-by-step as you create a Tickler File System that keeps track of all of the papers, files and projects you need to access daily or weekly.  This system will also provide a place to put all of the miscellaneous pieces of paper that don't have a home and require you to follow-up on a specific day or month.
A customized Tickler File System is a key foundational organizing system that every office needs.
In addition to a Tickler File System, this e-Book will give you strategies for organizing your computer files and several emails tips and tricks that will save you up to an hour everyday!
…
Grab Your Copy Now for ONLY $17

What People Are Saying About Conquer Your Office Chaos:
"Today's business world is very fast paced and competitive.  If you are organized and prepared, you can provide excellent customer service and grow your business.  If you don't, your competition will be more than happy to service your customers.  In this e-Book, Sherry helps propel you forward and make sure that you achieve success.  Taking the advice written in Conquer Your Office Chaos is a wise investment that will pay dividends for years to come."
Jim Grady, President 0f The Monticello Corporation
, Makers of The Paper Tiger software
…
"Running an office nowadays can be quite a task!  I have found that I can often become consumed with tasks and I forget what my goals are!  Reading Conquer Your Office Chaos has given me a new way to approach the information that comes across my desk and my computer so that I stay more organized.  Not only does she cover how to deal with paper but also how to deal with email that can overwhelm us, this book is worth its weight in gold!  This book is great for beginners as well as people who just need to get back on track with organization."
Suzanne Watts
…
"Enjoyed the book.  In the financial services business there is tons of paper.  Loved the systems discussed in the book.  The FAST System outlined in the book is a wonderful system to implement in any business.  Get's the papers off my desk.  I implemented the email strategies with Action files and love it."
Dan Johnson, Financial Services
…
"I finished reading your book and it is great.  I'm starting to use the Tickler system now and it's a dream come true.  I no longer stress over the pile of paper that I have to go through to figure out what I need to do today and what I can put off – only to realize that I put it off too long.  Every piece of paper now has a home.   I love that your suggestions can be implemented right away."
Kimberly Ann Yuen, Dream Compass Media Inc.,
Small Business Consultant & Coach
…
"I'm loving your Conquer Your Chaos e-Book. I'm thrilled to have it as a resource at my fingertips!"
Emily Bouchard, Life Coach, Speaker, and Trainer..
..
Grab Your Copy Now for ONLY $17